Rikers Island looms large in New York's imagination. It is home to a notorious complex of prisons, one whose excesses are still being discovered by the media and the courts. Many would like to see the Rikers Island closed forever, or barring that, to at least change the name to something that does not honor a slaveowner.
One group of designers has a different goal for Rikers Island—one that is within reach and, in fact, already at hand. Their problem: On one of the most prominent maps of New York City, Rikers Island isn't labeled. The island's name doesn't show up on Metropolitan Transportation Authority maps that appear inside New York subway trains. Their solution: Label it. On every map.
"Being so close to LaGuardia [Airport] and the Bronx, it was such a surprising thing for us to find out. Ten thousand people live there [on Rikers Island], and yet it's not labeled," Estefanía Acosta de la Peña, one of the designers behind#SeeRikers, tells CityLab "A lot of people can't even find it on the map."
Acosta de la Peña, along with Laura Sánchez and Misha Volf—graduate students at Parsons The New School for Design and collaborators in an enterprise called Artifice—came up with a simple correction. For the #SeeRikers project, they designed a sticker that trades on MTA's familiar "You Are Here" trope to illustrate where Rikers Island is. The project is a guerrilla intervention to label the island on maps inside New York subway cars—and to shine a light on New York's corrections crisis.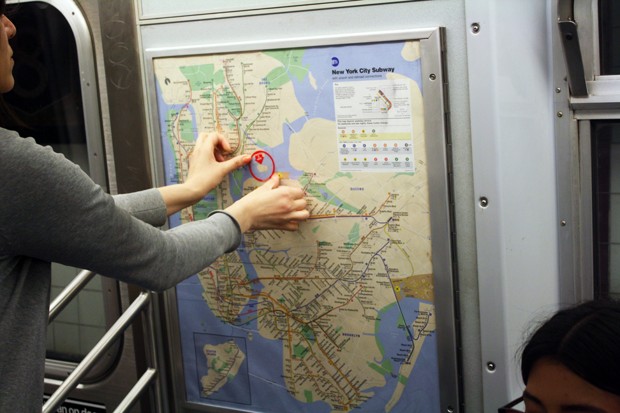 The Artifice designers came up with the concept as part of "Curating Global Dialogue: Incarceration," a class at The New School. The course serves as the New York local component of the Humanities Action Lab, a coalition of 20 universities working to design new answers to vexing social problems, including mass incarceration. In fact, this week, the Humanities Action Lab is opening "States of Incarceration," a national exhibition of 20 different projects on prisons from its 20 different partners, at The New School.
Read the full article here: http://www.citylab.com/work/2016/04/these-designers-want-to-put-rikers-island-on-the-map/477564/